Plenary Presentation: How You Can Maximize the Healthcare Delivered to Individuals with Developmental Disability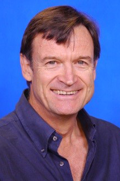 Nicholas Lennox
MBBS, FRACGP, PhD. Former Director Queensland Centre for Intellectual and Developmental Disability, MRI – UQ, The University of Queensland
Professor Nicholas Lennox is the former Director of the Queensland Centre for Intellectual and Developmental Disability, Brisbane, Australia, and the immediate Past President of the Australian Association of Developmental Disability Medicine. He is a medical clinician, researcher, educator and advocate. He has developed several world first interventions to improve the health of people with intellectual disability. Most notably three randomized controlled trials of the Comprehensive Health Assessment Program (CHAP). This work was a major factor in changes in health care policy and practice in Australia, UK and elsewhere. His team also produced the globally accessible, Able X Series of Massive-Open-On-Line courses, through Edx, which delivers healthcare training on health and developmental disability.
---
Plenary Presentation: iTARGET Autism – Individualized Treatments for Autism Recovery using Genetic-Environmental Targets
Suzanne Lewis
MD, FRCPC, FCCMG, Director, Autism Spectrum Interdisciplinary Research (ASPIRE) Program, Senior Clinician Investigator, BC Children's Hospital Research Institute; Clinical Professor, Department of Medical Genetics, UBC; Chair, iTARGET Autism; Vice-Chair, Autism Canada; Chief Medical Officer and VP Research, Pacific Autism Family Network, Vancouver, BC
Dr. Suzanne Lewis is a Clinical Professor in the UBC Department of Medical Genetics and a Senior Clinician Scientist within BC Children's Hospital Research Institute (BCCHRI). Dr. Lewis specializes in the identification of genetic and syndromic etiologies for individuals and families with autism and related conditions. She is the Director of the Autism Spectrum Interdisciplinary Research (ASPIRE) program at BCCHRI and is Chief Medical Officer and VP Research at the Pacific Autism Family Network (pacificautismfamily.com). ASPIRE has provided new insights for early diagnosis, understanding molecular and clinical relationships and pathways leading to best health management and outcomes for persons and families living with autism spectrum conditions.
---
Plenary Presentation: A Retrospective with an Eye and the Future Community Services for people with Dual Diagnosis in BC
Alanna Hendren
B.A, CAE Executive Director, Developmental Disabilities Association, Richmond BC

Born and raised in Vancouver, Alanna Hendren has been the Executive Director for the Developmental Disabilities Association since 1997. She's been recognized for her contribution to the community living and social services sector with multiple awards from the ministry and from various associations. She holds a BA Psychology from Simon Fraser University and is a Certified Association Executive. Alanna was seconded by the Ministry of Health for 14 months (1992-1993) to recognize Regional Mental Health Teams for people with developmental disabilities in BC and integrate them with Willow Clinic, a tertiary facility in the old Woodlands grounds.
---
Schoolwide Positive Behaviour Support (SWPBS): Why, What, and How?
Pat Mirenda
Ph.D., BCBA-D Professor, Dept. of Educational & Counseling Psychology and Special Education, University of British Columbia, Vancouver, BC
Pat Mirenda is a Professor in the Department of Educational and Counseling Psychology and Special Education, and Director of the Centre for Interdisciplinary Research and Collaboration in Autism (CIRCA) at the University of British Columbia. She teaches courses on augmentative and alternative communication, autism spectrum disorder, inclusive education, instructional techniques for students with significant learning challenges, and positive behavior support. She has published numerous research articles and chapters and presents frequently at international, national, and regional conferences. Her current research examines the effectiveness of parent coaching for toddlers at risk for autism spectrum disorder.
---
Medical Clinic for Children with Autism, Update 2013-2018
Diane Munz
MD, FRCPC, FAAP, Associate Professor, Part-Time, Department of Pediatrics, McGill University; Physician, Montreal Children's Hospital, Montreal, QC

Dr Diane Munz has worked in community pediatrics with children and adolescents with developmental disabilities since 1980. She is on staff in developmental pediatrics at Montreal Children's Hospital and is the pediatrician for the MAB-Mackay rehabilitation centre in Montreal. She started a medical clinic for children with autism at the request of parents in 2004 and has continued to hold this clinic every 2 weeks.
---
TREADD; An Interdisciplinary Treatment Program for Youth with ASD, ID, and Severe Behaviour Challenges: Key Components, Processes, and Partnerships for Success
Gerry Bernicky
Program Director, TRE-ADD, Toronto, ON
Gerry Bernicky has worked in Toronto for the past 30 years, 25 of those at Surrey Place, and 5 years in an Acquired Brain Injury behavioural program. Trained as a behaviour analyst, he has worked with children and youth with Autism, developmental disorders, or an ABI with challenging behaviours. He is the Director of several clinical services at Surrey Place.
Gerry has supported the growth of ABA in Ontario as a past President of the Ontario Association for Behaviour Analysis, in the development of several College programs in ABA, and is a past professor at George Brown College.
Vikram Dua
MD, FRCPC, Psychiatrist-in-Chief; Surrey Place, Clinical Director, TREADD; Assistant Professor, Department of Psychiatry, University of Toronto, Toronto, ON
Dr. Dua is a Child and Adolescent psychiatrist with clinical and research interests in complex individuals with autism and developmental disabilities – and systems of care that partner with community providers to enhance community access to evidence-based treatments and expert resources. Currently his clinical work focusses on assessment and treatment of children and youth with ASD/ID and psychiatric comorbidity, and/or severe behavioural challenges.
Dr. Dua has nearly 20 years' experience developing and implementing new dual diagnosis services in British Columbia and Ontario, and holds also appointments in the Departments of Psychiatry and Pediatrics at U.B.C.
---
Inclusive Living: The Benefits of Having a Home of your own in the Community
Janice Barr
Executive Director, Richmond Society for Community Living, Richmond, BC
Janice is the Executive Director of the Richmond Society for Community Living (RSCL). Since the early 1980s, Janice has been committed to the evolution and advocacy of community living in B.C for people with an intellectual disability and their families. Recognizing a need in the Richmond community, RSCL has recently embarked on the development of affordable housing for people with intellectual disabilities in Richmond. The desire to support people in inclusive settings that honours the individual's right to choose, was the impetus behind this project.
Janice's personal commitment to community living goes well beyond the borders of Richmond. She is on the advisory boards for both University of British Columbia's Centre for Inclusion and Citizenship and, the Patient Advisory Committee, UBC Heath. Janice is the past chair of the board of the Community Social Services Employers Association and serves on the board of directors for the BC CEO Network.
Doug Tennant
Executive Director, UNTI, Surrey, BC
Doug Tennant is the Chief Executive Officer of UNITI, a partnership of three not-for-profit organizations: Semiahmoo House Society (SHS), Peninsula Estates Housing Society (PEHS), and The Semiahmoo Foundation (TSF). UNITI built and manages Chorus, a 71 unit inclusive and affordable apartment in South Surrey. Doug is a strong believer that creativity develops spaces where people of different abilities can thrive together and has a Master of Education with a focus on innovation in the arts. He is currently the president of the BC CEO Network Board and the Vice-Chair of the Surrey Board of Trade.
Ross Chilton
MA, CEO, Community Living Society and Community Living Housing Society, New Westminster, B.C.
Ross is the CEO of Community Living Society (CLS) and Community Living Housing Society (CLHS) and is committed to innovations in housing and support for people with developmental disabilities. Prior to joining CLS and CLHS he held senior leadership positions in the public and private sector. Ross has a Master's degree in Counselling Psychology from the University of British Columbia and has expertise in implementing individual and organizational wellness programs, team building, and conflict resolution.
Ross is actively involved in his community on a number of Boards including the BC Non-Profit Housing Association, the BCCEO Network, and the Family Support Institute. Previously he was on the boards of the Steps Forward Initiative for Inclusive Post-Secondary Education and the BC Council on Substance Abuse.
---
Improving Mental Health by Providing Trauma Informed Care to Recognize and Treat Intrusive Symptoms of Post-traumatic Stress
Kim Burton
M.A. R.C.C. Counsellor/Consultant Developmental Disabilities Mental Health, Vancouver, BC
Kim Burton is a Registered Clinical Counsellor with a Master's degree in Counselling Psychology from the University of British Columbia. Kim has been a counsellor for 27 years. Kim has a counseling practice in Vancouver BC, and she been affiliated with the Developmental Disabilities Mental Health Support Team since 1999, as a counsellor/consultant.
Kim's client-centered counselling practice includes sandplay, EMDR, family systems therapy, Gestalt therapy, and Dealing With Feelings.
Kimburtoncounselling.ca
---
Why Do Children With Autism and/or Severe ID Engage in Self Injury and What Can We Do About It?
Michelle Schmidt
PhD, Director of Instruction, Student Support, School District No. 36, Surrey, BC
Michelle Schmidt, Ph.D., has been involved in private and public education for 30 years, as an educator, school psychologist, and school-based administrator. Presently, Michelle is Director of Instruction, Student Support, in the Surrey School District.
Michelle has been involved in many inter-ministerial initiatives geared toward meeting the needs of children and youth who have complex needs. Michelle is a member of the British Columbia Council of Administrators for Special Education, the Council for Exceptional Children, Deafblind International, the Surrey School District ABA Advisory Committee, the Online Mental Health and Autism Project (OMHAP) Expert Advisory Committee, and the British Columbia School Superintendents Association.
Michelle is a passionate advocate for children, youth, and their families. When Michelle is not working, she enjoys gardening, traveling, and photography. Michelle may be contacted at Schmidt_m@surreyschools.ca
---
Partnerships, Advocacy and Inclusive Education
Angela Clancy
Executive Director, Family Support Institute
Angela Clancy has been the Executive Director of the Family Support Institute of BC for 17 years. In her role at FSIBC she has been able to maximize her long history of experience and education with families who face the extraordinary challenges that come with having a family member with a disability. Angela has been personally and professionally inspired by growing up with her brother, Alan, who requires ongoing supports throughout his life due to disability challenges. Angela has 3 daughters who have all individually taught her lessons about herself, her dedication to family and how to maximize every opportunity in your life; to cherish every minute and every experience. Angela's education and life experience have led her to form a strong value system that is based on equal rights, equal opportunities, and community inclusion for all people.
Tracy Humphreys
Founder, BCEdAccess, Victoria, BC
Tracy Humphreys is the founder of BCEdAccess, a grassroots organization of over 1400 parents (and growing) of students with special needs from all over the province. Their mandate is to advocate publicly for equitable access to education for students with special needs, and to provide their parents with support, education and training around that right. She is also a partner in CareQuadrant, an e-learning company offering continuing professional development around issues such as advocacy and inclusive language. Tracy organizes an annual advocacy conference for BCEdAccess parents, and she is a parent to three children with autism.
---
Assessment and Management of Pain in Children with Developmental Disabilities
Tim Oberlander
MD, FRCPC, Investigator, BC Children's Hospital; Professor, Division of Developmental Pediatrics, Department of Pediatrics, University of British Columbia; Developmental Pediatrician & Attending Physician, Complex Pain Service, BC Children's Hospital and BC Women's Hospital & Health Centre, Vancouver, BC
Dr. Tim Oberlander is a Clinician-Scientist whose work "bridges" developmental neurosciences and community child health. As a Clinician, he is a Developmental Pediatrician with the Child Development and Rehabilitation Program and is the medical lead for the Complex Pain Service at BC Children's Hospital. He has particular expertise in managing persistent pain in children with developmental disabilities. As a researcher, Dr Oberlander's work focuses on understanding how early life experiences shapes thinking, memory, attention and stress/pain during childhood.
As both a clinician and researcher his work is guided by an understanding that children are capable of a remarkable capacity for both brain plasticity and recovery—namely, vulnerability as well as resiliency and his work focuses on figuring out how and why this happens.
---
Supporting the Mental Health Needs of Individuals with ASD in the Workplace
David Worling
RPsych, Director, Spectrum Works Consulting Group; Sessional Instructor, Department of Psychology, University of British Columbia, Vancouver, BC
Dr. Worling has worked at BC Children's Hospital's inpatient unit and anxiety outpatient psychiatric settings. He began the Westcoast Child Development Group in 2003 and is now in a full time private practice. He holds academic affiliations with the Psychology Clinic at SFU and is a Sessional Instructor, with the Psychology Department at UBC. He has over 25 years' experience working with a number of different populations. Dr. Worling has specialized training in the areas of Cognitive Behavioural Therapy, Autism Diagnostics, Group Therapy, and Learning Disabilities. He recently formed the Spectrum Works Consulting Group in response to his maturing clientele's need for employment related services.
---
Oral Health Strategies and Accessing Dental Care
Dawn Moon
RDH, Community Dental Hygienist, Health Services for Community Living, Island Health, Victoria BC
Dawn Moon has over 23 years' experience working as a dental hygienist. The last 7 years working primarily with adults with developmental disabilities in the community setting on the Health Services for Community Living team. Her focus has been on creating oral care guidelines for adults with dysphagia and strategies to help people attain dental care in the community. She continues to advocate for better solutions for adults facing challenges accessing dental treatment.
Jadina (Jay) Yip
RDH, BSc(DH), Community Dental Hygenist, Health Services for Community Living and the Complex Rehab and Resource Teams, Vancouver Coastal Health Authority, Vancouver, BC
Jadina (Jay) Yip is a community based Dental Hygienist practicing on the Health Services for Community Living team and the Complex Rehab and Resource team at Vancouver Coastal Health. These interdisciplinary teams support adults with a developmental disability and with an acquired brain injury, and their care providers. Wide-ranging complexities along with an aging demographic, has influenced how the teams plan for and implement care for clients with varying needs, including dysphagia.
Kayla Ragosin-Miller
RDH, Dental Hygenist, BC Children's Hospital, Vancouver, BC
Kayla Ragosin-Miller is a dental hygiene graduate from the University of Manitoba. As the hygienist at BC Children's Hospital she is currently involved in the research and development of helping children on the Autism spectrum accept dental treatment in the dental office without the use of general anesthetic. 10 years ago she developed the Dental Intervention Program for children with Autism and related disorders, this program has been highly successful landing her the nickname "The Autism Lady of Dentistry". In 2011 she was recognized by Johnson and Johnson with a Dental Hygiene Superhero award for her dedication working with this clientele and in 2016 she was awarded the The Dental Hygienist Making a Difference award from BCDHA. She is also a part time instructor and works in private practice.
---
Addressing the Needs of Adults with Developmental Disabilities Affected by Dementia
Jule Hopkins
Family Advocate, Planned Lifetime Advocacy Networks (PLAN), Vancouver, BC
Jule has worked in services for people with disabilities for over 40 years. Previously, she worked for CLBC as Director of Service Accountability and Safeguards and was responsible for developing CLBC's Strategy on Ageing. She also worked with the Family Support Institute to produce 2 books of stories told by family members as well as initiating various resources on aging. Jule is currently a Family Advocate with Planned Lifetime Advocacy Networks (PLAN). Her work is guided by honorable principles and ethics; she willingly helps achieve goals aimed at improving quality of life, accessing services, and gaining needed supports.
Nancy Jokinen
BA, RSW, PhD, Assistant Professor, Prince George Campus, University of Northern British Columbia, Prince George, BC
Nancy Jokinen is an associate professor at UNBC's School of Social Work. Her interests focus on aging, intellectual disabilities, dementia care, health, and quality of life. She has established networks of colleagues provincially, nationally and internationally with similar interests. Nancy is a member of the steering committee for the National Task Group on Intellectual Disabilities and Dementia Practices (NTG) and has been involved in various NTG initiatives. Currently she works with a group in Canada to pilot the NTG National Education and Training Curriculum on Dementia. She has published articles and book chapters and presented at national and international venues.
---
Epilepsy in Individuals with Developmental Disabilities: Causes, Spell Characterization, Support and Treatment
Chantelle Hrazdil
MD, FRCPC, Clinical Assistant Professor, University of British Columbia; Vancouver Coastal Health Division of Neurology Epilepsy and EEG, Vancouver, BC
Dr. Hrazdil completed medical school at the University of Alberta, following which she performed her Adult Neurology Residency Training through the University of British Columbia. She then completed a Fellowship in Epilepsy and Electroencephalography at the University of Calgary before returning as a member of the UBC Division of Neurology and Vancouver General Hospital Epilepsy program.
Her research interests and related publications have spanned such topics as non-convulsive status epilepticus, validation of an epilepsy surgical evaluation decision making tool, and patient/physician perceptions of epilepsy surgery. Some of her clinical interests include: women's issues in epilepsy, epilepsy-related driving implications, epilepsy pediatric transition, and autoimmune encephalitis.
---
Trauma Sensitive Sexuality Education – Why and How?
Margaret Newbury Jones
PsyD, Sexuality Educator and Counsellor, SHADE Consulting and Counselling, Kelowna, BC
Dr. Margaret Newbury Jones (PsyD) has been working in the field of developmental disabilities for 25+ years. She started as a special education teacher working in classrooms for students with developmental disabilities, behavioural challenges, multiple needs and more. She completed an M.Ed. in Community Rehabilitation specializing in sexual health and folks with developmental disabilities and hung out her shingle in the Lower Mainland for ten years providing sexual health education and services to these folks and the folks who support them, including their families. When she moved to sunny San Diego in 2012 she returned to school and completed her psychology doctorate exploring best practices in treating folks with developmental disabilities who have experienced trauma. She has returned to Canada, settled in Kelowna with her family, and has hung her shingle out again providing counselling and sexuality education as well as workshops and consulting on these issues and trauma informed practice and care (www.shadeconsulting.ca) throughout BC and Canada.
---
Is Poverty the Diagnosis: The Hidden Impact of Generational Poverty in Developmental Disabilities and Mental Health
Barbara Fitzgerald
MD, FRCPC, Developmental Pediatrician, Sunny Hill Health Centre; Consultant, Alderwood Family Development Centre; Clinical Associate Professor, Department of Pediatrics, University of British Columbia, Vancouver, BC
Barb Fitzgerald is a Developmental Pediatrician who works with a wide range of children with developmental challenges. She ran an outreach program to Vancouver's inner city schools for 17 years, seeing vulnerable school-aged children with learning and behaviour challenges. She is the Medical Director of Alderwood Family Development Centre where she treats children with complex behavioural and mental health concerns and is a Qualified Specialist doing Autism Assessments at the Provincial Autism Program in Vancouver. Her private practice focuses on children with complex presentations of Autism Spectrum Disorder.
---
FASD Isn't Just About the Brain
Caron Byrne
BA, MSc, MD, FRCPC, Retired Physician and Psychiatrist, Qualicum Beach, BC
Dr Byrne is a semi-retired psychiatrist from Vancouver Island who has worked in the field of developmental disability and mental health needs since 1992. Dr Byrne has a strong interest in FASD and has presented on FASD many times and was part of a 3 year pilot FASD assessment clinic.
CJ Lutke
FASD Speaker, Mentor, Vancouver, BC
CJ Lutke is a well-known speaker on FASD, having presented at conferences, adoption seminars and other events for many years, sharing her experiences in living with FASD. She also provided training for second year medical students for over 10 years and has done much video work, including internationally. CJ believes those with FASD must change the future, challenging perceptions about outcome. She provides mentoring, role modeling and friendship to young adults with FASD. Most recently, CJ was co-lead of a ground-breaking study on the health and physical issues of adults with FASD. CJ's goal is to help others with FASD find their voice and to help society understand that we are greater when we are united and work together.
Myles Himmelreich
FASD Consultant, Motivational Speaker, Vancouver, BC
An extremely empathetic motivator for those with FASD. He has a life time of experience and a keen aptitude for leadership. Myles is well known in the international FASD community for his sincere leadership, mentorship, humor and public speaking while educating others on the strengths of those living with FASD. He has been leading support groups for teens and adults for over 20 years and has countless hours of consultations and facilitating conferences. He is well known for how he has impacted the lives of those living with FASD.
---
Regulation Inside and Out for Children and Youth with Complex Care Needs
Jody Al-Molky & Barbara Howe
Jody Al-Molky
Coordinator of Nursing Services, Quality Assurance and Training, Manager for the Complex Care Unit (CCU) and Children and Youth with Complex Care Needs (CYCCN) Clinical Outreach Program, Ministry of Children and Family Development, Burnaby, BC
Jody has been the Coordinator of Nursing Services, Quality Assurance & Training at the Maples Adolescent Treatment Centre since 2005 and has worked for the Ministry of Health and Ministry for Children and Family Development since 1986. Jody has been responsible for the Complex Care Programs since May of 2016.
Barbara Howe
MSc, RSW, Team Lead, CCU and CYCCN Clinical Outreach Program, Ministry of Children and Family Development , Burnaby, BC
Barb Howe has been the Team Lead at the Complex Care Unit and Clinical Outreach Program for the CYCCN Provincial System of Care since May 2016. Barb previously worked for 25 years in Manitoba with children and youth with complex care needs in both child welfare and education.
---
Closing Performance
K-STAR
KStar, or as we know him, Keifer, is a young man who has faced many obstacles over the course of his life. Keifer has found a way to express himself through music and he has inspired all of us. Keifer was adopted from Port au Prince, Haiti at 18 months of age and brought to live in Canada. Keifer has sickle cell anemia, which is a rare blood disorder that requires Keifer to take daily medication and monthly blood transfusions for the rest of his life. Keifer experienced bullying throughout his childhood and youth and a school counsellor told him it might help to "write down how you feel." Keifer put his feelings into words by writing poetry and shortly after realized that he could put these words to music. He began sharing his music with others publicly at the age of 15, receiving his first standing ovation at his summer camp.
Over the years Keifer has lived with depression and anxiety and he has worked very hard to maintain his wellness and embrace support from those around him. Keifer's music has helped him to work through the many ups and downs of life and when he's onstage, he says he feels at home. He's been able to share his experience and provide inspiration for young people everywhere, with regular performances in the lower mainland and he plans to release his music this year. We are so very proud to introduce this amazing young man today and have him share two of his songs with you